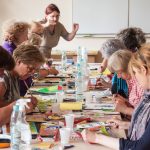 Szczecin 2016.
In the framework of the project "Opened for the culture" realised by the by West- Pomeranian Branch of Polish Deaf Association in the period May – October 2016 were organized three workshops led by artists of GAG: painting (led by Agnieszka Kołodziejczak), graffiti (led by Tomasz Grabowski) and photography (led by Olgierd Koczorowski).
Participants met secrets of the technology of watercolour at the painting workshop, could leave into the open air to sketch interesting corners of Szczecin as well as to open for emotions and creative action.
On the photographic workshop participants had occasion to learn new techniques as cyjanotypia, pinhole photography and realized diverse surprising spontaneous ideas.
On the graffiti workshop Tomasz showed secrets of the difficult graffiti art, which now is one of the most dominating courses of the modern art and the artistic statement about social issues.
They participated in workshops both not-hearing as well as hearing participants. The best works from workshops were shown at the First Festival "Opened for the culture" organised in October 2016 in Szczecin.
---